Dock Systems
Make the most of your waterfront with our wide selection of docks!
The right dock makes owning a boat more enjoyable. Our experienced crew will be happy to provide an estimate for professional installation on any docks we sell.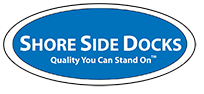 Shore side dock Systems - Welcome to the "I need something a little different" department. No job too big or too small. Shore Side Docks offers complete custom dock design, build and installation services for residential and commercial applications. Need something wider, longer, shorter, tighter? We and our team of experienced dock builders can work with you to affordably bring your vision of the perfect waterfront living space alive.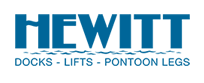 Hewitt Lift & Roll-A-Dock Systems
- Leisure, recreation, utility- Whatever brings you to the water's edge, you can count on Hewitt docks for safety and durability every step of the way. There's a Hewitt dock system ideally suited for the terrain and water characteristics of your property. Hewitt's Roll-A-Dock system is simply the fastest and easiest way to get full enjoyment from your waterfront property.