Hewitt Lift & Roll-A-Dock Systems
Leisure, recreation, utility- Whatever brings you to the water's edge, you can count on Hewitt docks for safety and durability every step of the way. There's a Hewitt dock system ideally suited for the terrain and water characteristics of your property. Hewitt's Roll-A-Dock system is simply the fastest and easiest way to get full enjoyment from your waterfront property. In cold climates, there's no need to endure frigid water- just roll it in and you're ready for action. Roll-A-Dock is ideally suited to gradual slopes and works equally well on soft or rocky bottoms. A basic dock can be easily placed with a vehicle or installed in a matter of minutes by a few as two people.
---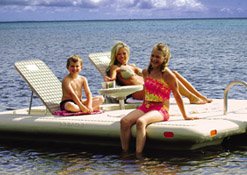 This summer... Escape to Otter Island. The 8 x 10 water & swim raft is the perfect summer-long vacation for the kids, grand kids or a relaxing vacation for any adult.
---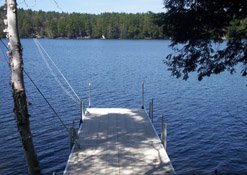 Custom Dock w/ Pulley System
Custom built dock with a a pulley system used to pull the dock up out of the water of the boating system eleiminating the need to remove the dock completely for the season.
---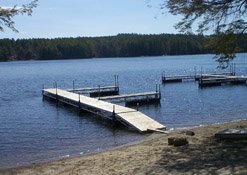 Hewitt Floating Docks are ideally suited for complex layouts and commercial as well as residential use on deep bottom lakes, reservoirs and rivers. Floats automatically adjusts ti high and low water conditions. As the photograph illustrates, Hewitt Floating Dock components can be used to construct a dock of almost any size and shape.
---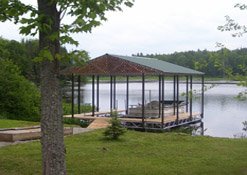 Custom Dock- Boat House
Custom docks are designed to meet many od the sameapplication needs as the standard floating dock but offer a greater variety of frame sizes to satisfy unique design requirements.