News & Specials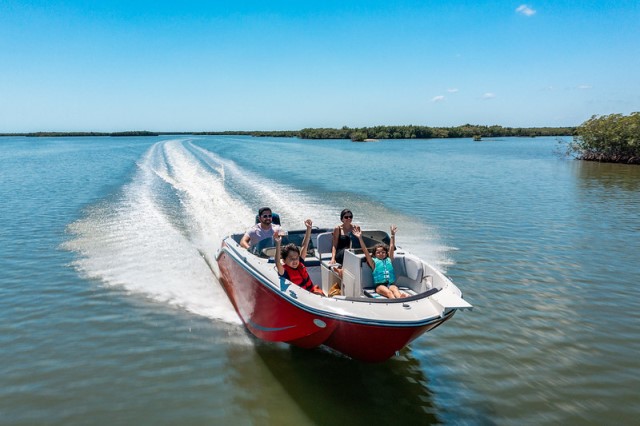 Six Things You Need to Know to Get into Boating
Relaxing on the water with family and friends. Exploring places you could never see from land. Connecting with nature in a whole new way. Feeling the thrill of a fish taking your bait. Enjoying fun new watersports activities.
Boating offers all of this and more. But before you make the decision to buy that boat, it's important to do your due diligence and learn more about the costs and other requirements that boat ownership entails.
Here are six things you should know before getting into boating:
Know what type of boater you are. Are you interested in using the boat to go fishing, wakeboarding, diving, chilling out on board or all of the above? Will you be operating your boat on calm lake waters or heading offshore? Do you plan to go on long-distance cruises or stay closer to home? Do you have the need for speed? The answers to these questions will help to determine what type of boat is right for you.
Know how much it will cost. Once you know the type of boat you are interested in buying, you can compare different makes and models to get an idea of their purchase price. You can do this by visiting local marine dealers or by attending a boat show, where you will find different brands on display in the same location. Many marine manufacturers also offer a "build my boat" tool on their website that you can use to make cost comparisons from the comfort of your couch. Be sure also to research the price of boat insurance.

Know where you are going to keep the boat. There are many different options to consider, depending on the dimensions of the vessel. Some are free, like keeping the boat on a trailer in your garage. Others, such as rack storage or dockage at a boat club or marina, are available for a monthly fee. While marinas and boat clubs may be the priciest options, they typically offer a built-in social scene and sometimes also include access to a swimming pool and other benefits.

Know where you can launch it. If you are planning to trailer your boat, you will need to find the location of one or more public boat ramps in your area. Typically, you can do this by contacting your community's parks and recreation department, or on your state wildlife agency's website. The website takemefishing.org, which is hosted by the Recreational Boating & Fishing Foundation, offers a searchable boat-ramp finder for the entire United States.

Know whether you will need a boating license. Many states across the country require you either to pass a test to get a boating license or successfully complete a boater safety education course.

Know where you can learn how to operate your new boat safely. Whether or not it is required by your state, an online or in-person boater education class is a great place to learn the Rules of the Road for the water, basic navigation skills and what safety equipment you will need to have on board your vessel. To find a class near you, visit the United States Power Squadrons website. We also recommend receiving on-water boating instruction. Check the web for nearby boating or sailing schools or ask your marine dealer for a referral (some dealerships even offer their own classes). Brunswick Corporation recently launched a program called BoatClass® that provides on-water instruction in several states. Alternately, there are some opportunities to hire a local U.S. Coast Guard-licensed captain to provide you and your family with training on board your own boat.
Boating is one of the most rewarding experiences you can have in your lifetime, combining family, friends and fun surrounded by the amazing beauty of nature. Once you have done your homework and have the full picture of what's involved in boat ownership, it's time to get out on the water and enjoy it!
Posted: Mar 21, 2023
---