News & Specials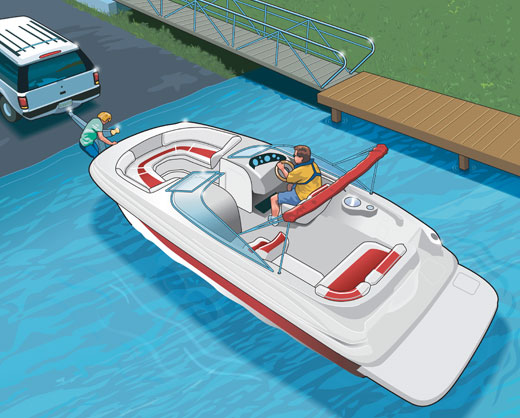 Boat Trailer Anatomy and Safety
Few adventures are as awesome as hitching up the trailer carrying your boat and trailer to your tow vehicle, hitting the road, and heading for some waterways. In any such endeavor, of course, boat trailer safety is a priority, and we're here to help.
Lets take a look at basic trailer anatomy, and safety considerations.
The tongue, receiver hitch, and latch. The tongue is the very front piece of the trailer, which houses the receiver hitch, the mount shaped like and upside-down cup into which the ball hitch on your tow vehicle fits. The latch is the lever which locks the ball hitch into the receiver once it's in position.
Safety chains. These are the chains at the front of the trailer, which should be hitched to the eyes on your tow hitch every time you haul the boat.
Tires, wheels, and bearings. The tires and wheels are just like those found on your other vehicles, but the bearins they spin on so they can take a beating (especially if you go boating in saltwater) since they're submerged from tiime to time. They need regular inspection and maintenance.
Frame. The trailer frame in the main structure of the trailer.
Axel(s). Depending on how heavy your boat is, the trailer may have one, two or even three axels.
Lights. Trailer lights are necessary not only for safety, but also to make sure your trailer in legal on the roadways. Like bearings, however since the lights get dunked on a regular basis they're subject to a lot of wear and tear. They should get a visual inspection before each trip to be sure all are functioning properly.
Some tips for boat trailer safety.
Always cross the safety chains. In the unlikely event the hitch and trailer become seperated, the crossed chains will support the tongue and keep it from digging into the ashphalt.
Allow extra braking distance to account for your load.
Take turns wider than usual to avoid clipping the curbs.
Never tow a trailer that's swaying, which can lead to an accident. When you detect and sway pull over and adjust the load. Sway is usually the result of improper tongue weight, which should be ten to fifteen percent of the overall load. Shifting weight forward or aft can often eliminate swaying.
Watch your mirrors. Be aware of other drivers around you, especially when changing lanes or making turns.
Now that you know some basic trailer anatomy and som safety tips you are sure ready to hit the road and get your boat to the water!
Posted: Mar 15, 2023
---