News & Specials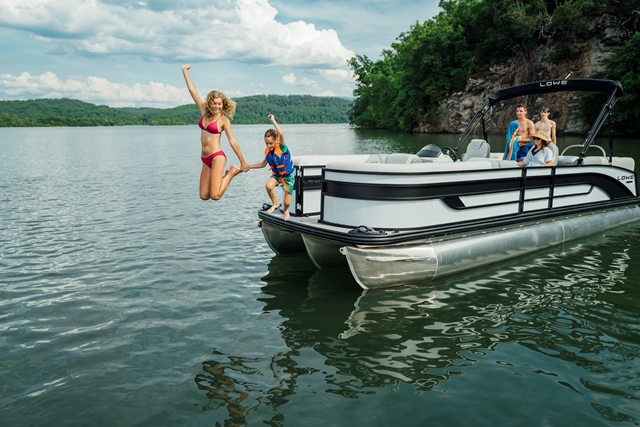 Buying a New Pontoon Boat
Enjoying a summer day in a new pontoon boat might be the most relaxing way to spend a day on the water. Since new pontoon boats offer more space and more weight capacity than other types of recreational boats, the whole family and also some friends can join in on the fun. If you've only begun shopping for a pontoon boat, you may be getting somewhat overwhelmed. Why are there so many pontoon boat types? Why are there so many varying floor plans? Which model is the best? Before you get frustrated, consider some advice that should help to simplify your buying decision.
To choose the custom pontoon boat model that best fits your boating needs, ask yourself some qualifying questions before making a trip to your local dealer:
How do I intend to use my new pontoon boat?
How many people do I want to take out on a typical day at the lake?
What is my desired top-end speed?
Do we intend to casually cruise around the water with friends, or do we want a faster boat meant for tubing, knee boarding, waterskiing and other watersports?
Will we often be fishing from the boat? If so, would we rather cast from the bow of the boat, or will we prefer trolling off the stern?
Do we prefer luxury or functionality?
Once you have determined how your pontoon will typically be used, you will be better prepared to make informed choices about a practical and accommodating layout for your family's needs. Asking the above questions will help to significantly narrow your favorite of all the pontoon models so you can choose the best pontoon boat.
If fishing is on your agenda, you should look at fishing pontoon boats with pedestal fishing seats and/or an aerated livewell. For the die-hard angler, explore pontoon boats the support fishing from all four corners. If inviting some friends out for a pleasure cruise is more your style, you should consider a pontoon boat with lots of comfortable furniture options. This will increase the seating capacity so you can invite more friends, and it will also improve the overall onboard storage space.
Pontoon boats offer relaxation, social space and versatility. They might be the perfect solution for you and your family!
Posted: Mar 8, 2023
---